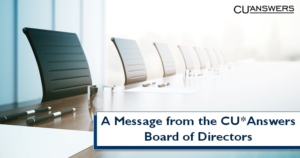 Succession planning continues to be a hot topic these days, and with the pending retirement of the CU*Answers CEO, Randy Karnes, we know everyone is curious about our succession planning efforts.  Rest assured, the CU*Answers Board of Directors has a plan and the project is ongoing.
At this year's Annual Stockholders Meeting on Wednesday, June 16, our Board chair Scott McFarland will provide an update on the project to our owners.  For those of you who will not be attending, information will be shared via video following the Leadership Conference events.
Stay tuned for an email announcement with a link to the video.  In the meantime, if you have questions, don't hesitate to reach out to any member of the CU*Answers board.  You can find contact information on the About > Board of Directors page of the CU*Answers website.