With Xpress Teller, display photo IDs right on the screen when performing a transaction for a member!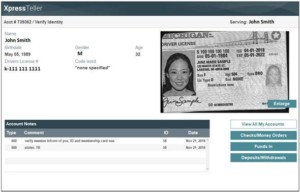 If you would like to begin using this new feature, you will first need to have some additional software installed on your In-House Imaging Server.  To get started, please use one of the following contact methods:
Reach out to eDOC innovations to have the software installed at csr@edoclogic.com
Or
Join Imaging Solutions Release Management!  Signing up for Imaging Solutions Release Management means that we will update your server in preparation of releases so you can use these new features on day one!  Ready to get started?  Click here to visit our online store!
If you have any questions please reach out to imaging@cuanswers.com.