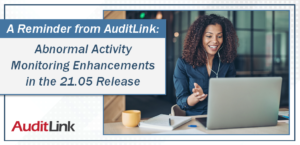 As previously announced, the 21.05 release of CU*BASE will see the debut of enhancements to the already robust Abnormal Activity Monitoring Toolsets.  With these new enhancements, credit unions will have the ability to automate the analysis of member transaction activities, evaluate and forecast financial risks, and in turn, establish procedures to avoid or minimize their impact.
As a reminder, beta clients who are already using the Abnormal Activity Monitoring product will have access to 180 days worth of backlogged data, following the implementation of the 21.05 release.  For credit unions not included in the beta, this data can be activated upon request.
If you would like to have the 180 days worth of backlogged data activated for your credit union, please reach out to Jim Vilker at: jvilker@cuanswers.com.