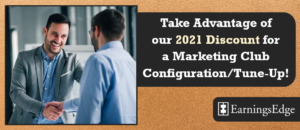 Earnings Edge is pleased to announce a special promotion for our Marketing Club Configuration/Tune-Up service!  For the remainder of the 2021 fiscal year, we will be offering this service at a discounted price of $250.
Marketing Clubs are an excellent source to manage groups of members who share common bonds that have brought them to the credit union.  By using Marketing Clubs, your credit union can offer rewards to help win member satisfaction while also leveraging the automated features of CU*BASE to manage your programs and avoid the risk of loss.
Here are just a few examples of ways that your credit union could take advantage of this service:
Your credit union could offer a loan rate discount to members who are enrolled in eStatements and receive ACH deposits.
Your credit union could offer a rate benefit to younger members who are just beginning their financial journey with your institution.
Your credit union could offer a fee waiver for Configured Account, Minimum Balance or Transactional Service Charges.
Ready to learn more?  Click below to visit the store!