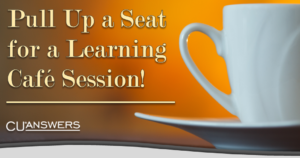 CU*BASE is a very robust system, but we have some amazing tools available to help you navigate the many features it offers.  Join Client Services and Education Account Executive Monica Boguszewski for this month's Learning Café session.  Monica will discuss a variety of ways you can learn more about our core software, including Show Me the Steps, Reference Guides, Online Help, Knowledge Base and more!
Tuesday, April 20
4:00 PM – 5:00 PM ET
Don't forget: CU*Answers web conferences are always free to attend!