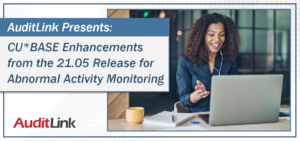 Constant monitoring for abnormal activity can be time consuming and costly.  CU*Answers and AuditLink have responded by enhancing the already robust Abnormal Activity Monitoring Toolsets in CU*BASE.  Coming in the 21.05 CU*BASE Release, credit unions will soon have the ability to automate the analysis of member transaction activities, evaluate and forecast financial risks, and in turn, establish procedures to avoid or minimize their impact.
These enhancements include:
A fully customizable approach to monitoring for fraud.
The ability to mitigate threats and decrease loss.
Reducing the cost of management and satisfying compliance requirements.
The ability to capitalize on data collection and interactive business processes to make effective business decisions.
New trigger types including velocity, out-of-the-ordinary and idle activity triggers.
Gain a first look at the 21.05 CU*BASE Enhancements for Abnormal Activity Monitoring – join us on Thursday, April 29th from 3:30 PM to 4:30 PM ET.