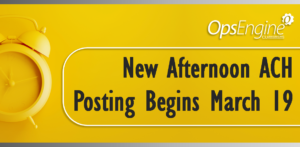 NOTE: This is a revision from the announcement you received on February 24. After further reviewing the requirements, we will be changing our original plan for handling the new daily ACH file the Fed will begin sending on March 19. 
On Friday, March 19, OpsEngine will begin receiving a 5th daily ACH file from the FRB. The new file will be received at 5:30pm ET and, according to NACHA regulations, any same-day items in that file must be made available by the close of business (prior to end-of-day processing) for that settlement date.
What We're Doing Starting on March 19
Because our current posting controls already include a setting to control how the final posting is done prior to EOD each day, we will receive any files available from the new file window and then post them with the last file set that we post after 10:00pm ET.
That means that starting March 19, you will receive two sets of receive reports at the end of the day – one from the 5:30pm ET file and one from the 10:00pm ET file – and one set of posting reports for the 4th run posting.
Recap
We will now be receiving ACH files 5 times a day and posting ACH 4 times a day according to the following schedule (remember that all times are ET and are approximate):
First run: Received overnight and posted by 8:30am ET
Second run: Received by noon and posted by 1:00pm ET
Third run:  Received by 4:00pm ET and posted by 5:00pm ET
Fourth run: Received at both 5:30pm ET and 10:00pm ET, and posted by 10:30pm ET
Check Your Posting Controls!
Because the final run will now include two sets of files, make sure that your configuration is set up to post both debits and credits in the fourth run. Use Tool #113 ACH Posting Controls to adjust this setting if needed.

Future Plans
We have also submitted a project, which is currently awaiting assignment to a programmer, to simplify the current ACH Posting Controls configuration. We will also be adding an option to post all credits immediately upon receipt, regardless of the effective date (this will no longer be exclusive to specific company IDs as it currently is). Keep your eye on the Kitchen for more information about that later this year!
Have any questions?  Contact the OpsEngine team today.