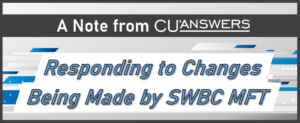 You may have received an advisory email from SWBC about their Managed File Transfer (MFT) product.  We have received a few inquiries so we wanted to let everyone know how their decommissioning of DNS and IP addresses on December 19, 2021, would affect our network
Below are answers to some frequently asked questions about the upcoming change:
1) Who will be making sure this change happens?
Answer:  The CU*Answers production programming team, along with Network Services.
2) How will this impact my credit union?
Answer: Your credit union should not notice any significant changes or interruptions when this process occurs, as most of the work will be occurring behind the scenes.  There is no action required of your credit union – each step of the process will be handled by CU*Answers.
3) When will these changes be made?
Answer: The CU*Answers production programming team will be working with SWBC to make the change prior to December 19, 2021.