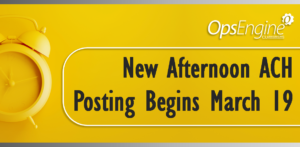 On Friday, March 19, OpsEngine will begin receiving an additional afternoon ACH file.  Currently, the afternoon ACH files are received each day at 4:00 PM ET and are posted by 5:00 PM ET.
With the addition of this new ACH file, there will now be two receive reports.  OpsEngine will pull the two ACH file sets at 5:30 PM ET and will post them together on receipt.
We have submitted a project, which is awaiting assignment to a programmer, to simplify the current configuration for ACH posting and will be adding an option to post all credits immediately upon receipt, regardless of the effective date (this will no longer be exclusive to select company IDs as it currently is).  Keep your eye on the Kitchen for more information about that later this year!
Have any questions?  Contact the OpsEngine team today.