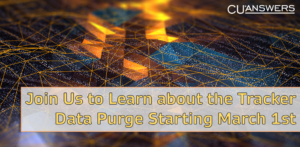 ATTENTION ONLINE CREDIT UNIONS
Don't forget: automated tracker purges begin March 1, 2021!  In preparation for this, we will be hosting a webinar this afternoon on Understanding the Tracker Data Purge: CU*BASE Configurations and Options to Keep the Data.  During this webinar, we will review what data is being purged/deleted, configurations and updates for the process, and that your credit union does have the option to retain data (though it requires additional action on your part) if you have a Data Warehouse.
Monday, February 22nd
4:00 PM – 4:30 PM ET
Presented by: Annalyn Hawkes, Thomas Hull, and Jerry Collins
Additionally, if you are unable to attend the webinar, a video recording will be made available at ondemand.cuanswers.com.