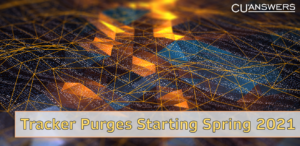 ATTENTION ONLINE CREDIT UNIONS
Automated tracker purges have arrived (again)! Last year's automated tracker purge routine was re-worked and rescheduled, and will now begin March 1, 2021.
What is Happening?
We will manually purge all tracker conversations that are outside of individual CU-configured retention periods throughout March, based on tracker volume. Then,  in April we will initiate the regular monthly purge. Purged data is permanently deleted unless you choose to activate the optional archival options (see more about archiving below).
What Do I Do?
First, decide the desired retention period for each of your tracker types. For more information on the minimum and maximum limits, visit online help. In CU*BASE, select Tool #277 Configure Tracker Types, select the tracker type and 'Change' to edit the retention period. Be sure to review each of your tracker types before March 1, and that's it!
What if I Do Nothing?
When the retention selection was turned on, retention periods were defaulted to the maximum length allowable by specific tracker type. If you choose to not edit the retention period on your trackers, these conversations will still be purged based on the default selection! Remember that we are no longer allowing you to keep unlimited trackers for the Audit (AT), Notice (NT), and Sales Tracker (ST) Types.
What if I Want to Archive Trackers?
Tracker archival is available for credit unions with a CU*Answers Data Warehouse. Join the webinar on Monday to discuss your options:
Monday, February 22 @ 4:00 PM – 4:30 PM ET
Presented by: Annalyn Hawkes, Thomas Hull, and Jerry Collins
If you are unable to attend the webinar, the presentation is also available online: cuanswers.com/wp-content/uploads/UnderstandingtheTrackerDataPurge.pdf
Remember that in order to archive trackers you must activate your Data Warehouse and adjust your retention configurations before March 1st! Visit the CU*Answers store to get started: https://store.cuanswers.com/product/data-warehouse-library/