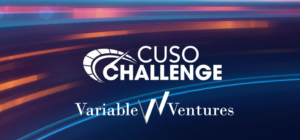 CU*Answers, CU*NorthWest, CU*South, eDOC, rkGoBig and Xtend have joined together to challenge the credit union industry.  Join us for the fourth webinar in the five-part CUSO Challenge series.  This webinar will focus on a nationwide, multi-CUSO effort to create a Think Tank consortium for CUSOs.
Tuesday, February 16th at 2:00 PM ET
Click here to learn more about the CUSO Challenge and Variable Ventures!