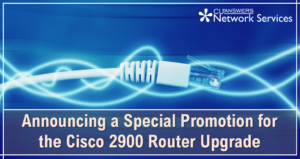 Cisco has announced the End of Life for the 2900 series routers. Your credit union may currently have these routers in use for connectivity to CU*Answers.
To assist credit unions in upgrading this equipment, CU*Answers will be offering a special discount until March 31st.  This discount will reduce the router from its normal price of over $3,200 to $2,900, for a savings of over $300.  We will also discount the installation labor from $500 to $250.
Visit the Store to Sign Up Today
Please note: if your Cisco 2900 has a dedicated MPLS circuit, additional equipment may be required.  If this is the case for your credit union, please reach out to confirm with our team, or contact us with any questions you might have at: helpdesk@cuanswers.com.