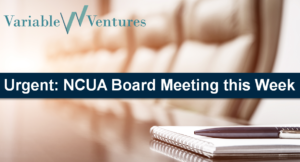 Is one of your New Year's resolutions to take a greater interest in the larger issues that impact your credit union or CUSO?  Have you taken an individual responsibility to learn more and share more with your board, members and employees about how the actions of your regulators and insurer trickle down and impact your credit union or CUSO?
If so, take some time and listen to the NCUA audio broadcast of their January board meeting this Thursday, January 14th at 10:00 AM ET.  You can find the full agenda HERE.  If you want to let the agency know that you care about what they're doing and how they're doing it, follow the instructions on the agenda and call in.  Let's take back control of our cooperative vision.
How to participate: The meeting is open to the public.  Due to the COVID-19 pandemic, however, the meeting will be open via live audio webcast only.  Visit the agency's homepage (www.ncua.gov) and access the provided webcast link.