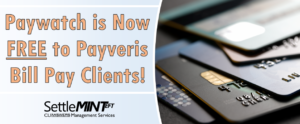 Attention credit unions using Payveris Bill Pay: we have GREAT news!  Paywatch (Payveris Fraud Prevention Solution) is now FREE!
In case you didn't notice, you received a credit on your October CU*Answers invoice labeled 'Payveris Credit – Paywatch Refund'.  This refund was provided to you as we were able to negotiate having Payveris INCLUDE Paywatch as part of their service.  The refund you received in October is what you paid from April to September of 2020.  Going forward, you will no longer be charged for Paywatch.
Not yet using Paywatch?  Contact SettleMINT EFT and one of our team members will be happy to work with you to set up Paywatch and create a solution that will help protect both you and your members from fraudsters!