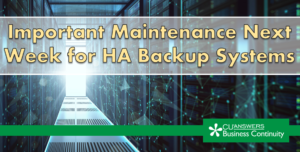 We're doing some important maintenance next week!
Just a quick heads-up that we are getting ready for our next rollover exercise scheduled for March (you'll get a separate announcement about that soon).  To prepare, next week we will be performing some maintenance to replace and upgrade the hard drives on our HA backup system in Yankton.
We don't expect this to have any impact on CU*BASE production, and data replication will continue throughout the process, with minimal interruption points during non-peak hours.  We just wanted to keep you in the loop.
Watch for a separate announcement about the March rollover exercise, including details about how you should test your branch connectivity.  In the meantime, we appreciate your ongoing support as we perform this critical maintenance!