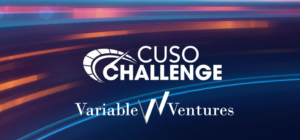 CU*Answers, CU*Northwest, CU*South, EDoc, RKGoBig, Xtend have joined together to challenge the credit union industry.  Join us for our third webinar in the five-part CUSO Challenge series.  This webinar will focus on a nationwide, multi-CUSO effort to create scholarships for struggling credit unions.
Tuesday, January 19th at 2:00 PM ET
Register for the January 19th Webinar
Additionally, you can use the registration link above to sign up for any of our remaining CUSO Challenge webinars.
Click here to learn more about the CUSO Challenge and Variable Ventures!