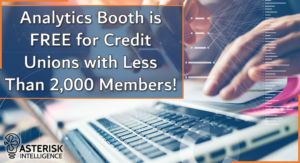 The Asterisk Intelligence team is excited to announce that, beginning in 2021, Analytics Booth will be free to all credit unions with less than 2,000 members.  With your subscription to Analytics Booth, you will have access to 80+ trend lines of your credit union's data, 12 dashboards, customized alerts, Powerlines, etc.  To activate your subscription, place your order directly within the Asterisk intelligence store.  The Asterisk Intelligence team will then follow-up with your credit union when your initial administrator details have been created.
Look for an announcement coming soon where the Asterisk Intelligence team will provide a training session on Analytics Booth in January and February.  If you have a desire to learn more about Analytics Booth and the tools that are available, the following resources may be of interest to you.
Getting Started with Analytics Booth
Video: Introduction to Analytics Booth
Any questions? Reach out to the Asterisk Intelligence team (ai@cuanswers.com) to learn more!
Special Note : If your credit union is already a subscriber of Analytics Booth, your monthly subscription billing will cease for the 2021 calendar year.
Your credit union's membership size will be analyzed once a year in December.  If your credit union has 2,000 members or less, your Analytics booth subscription will be free for the entire year.  In the event your credit union grows to more than 2,000 members during our analysis, we will reach out to your credit union.