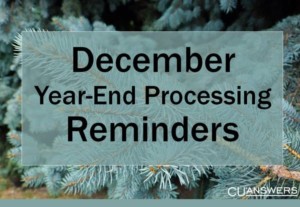 The end of 2020 is fast approaching! Are you ready for year-end processing?
Before December 31, ensure that you have entered mortgage points paid and other 1098 data into the tax file, as well as completing regular month-end processing tasks.
From January 1 – January 6, things move quickly! As soon as possible, review the Beginning-of-Year/Tax File Verification reports. Run the Tax Information reports, and verify the Tax File, IRA Balance File distribution data, and HSA Balance File data. The final deadline before CU*Answers begins processing tax data for online clients is Wednesday, January 6, at 8 PM ET.
What should I pay special attention to during 2020 year-end processing, in regards to this year's1099-MISC changes and the new 1099-NEC form?
Read More About Your Year-End Tasks
While you have received printed guides at your credit union, be sure to always review the guides posted on the Reference Page for the most up to date information. Additionally, we have been made aware that an issue at our printing vendor may have caused missing pages in the guide delivered to your credit union – we apologize to anyone impacted by this issue.
 2020 Year-End Guide for Online Credit Unions