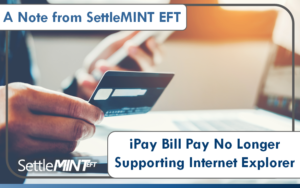 CU*Answers would like to remind our iPay clients that the iPay bill pay platform no longer supports the Internet Explorer browser.  While members are not prevented from using Internet Explorer, they will find that some features do not function properly, due to security measures put in place by iPay which are not supported by the browser.  Effective immediately, members logging into the iPay bill pay platform will be met with an alert notice informing them of this change.
Please encourage your members to select a different browser to continue accessing the full features of the site.  Chrome, Safari and Mozilla are some of the most popular browsers currently supported by iPay.
If you have any additional questions, please reach out to the SettleMINT EFT team.