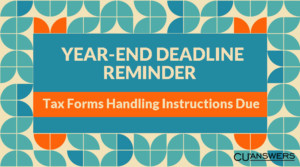 Credit Unions who received this message had not yet completed this task. Please disregard if you have already completed your Monday, November 9 year-end task. 
But don't worry, there's still time! The choices you make on these screens ensure that we can meet our own deadlines with vendors, and prepare our teams. Please ensure that you have completed this task by Monday, November 9.
Online credit unions, use the Tax Form Handling Instructions (Tool #916) to mark your instructions. Self-Processors, please complete and return the Tax Forms Archival Instructions form.
Find instructions and more in your year-end guide, linked below. As always, be sure to keep up with your Month End Processing Tasks as well.
2020 Year-End Processing for Online Credit Unions
2020 Year-End Processing for Self-Processing Credit Unions
Year-End Training Information
This year, CU*Answers will offer three sessions of training, combined for both Online and Self-Processing clients. Approximately 15 minutes at the end of each training will be dedicated to self-processor year-end tasks.
Thursday, November 12
2:30 PM – 4:00 PM ET
Tuesday, November 17
2:30 PM – 4:00 PM ET
Wednesday, December 9
2:30 PM – 4:00 PM ET