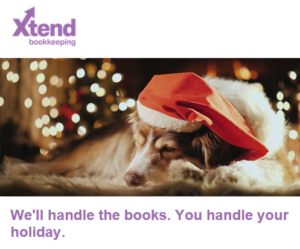 We'll handle the books. You handle your holiday.
This holiday season, let our Stand-In Service take care of your bookkeeping work.
DRAFT Exceptions
ACH Exceptions
PACHSU Reports
Bill Pay Exceptions
Faxing Reports to Credit Unions
Interested? Fill and send this PDF by Tuesday, November 24th.  We look forward to working with you!
xtendsrs@xtendcu.com   –   1-800-327-3478 ext. 277