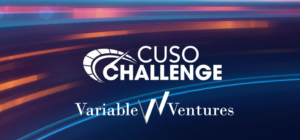 Join Variable Ventures on Thursday, November 19th at 2:00 PM ET as we break down the initiatives of the CUSO Challenge.  This month, Vic Pantea will give a detailed look at De Novo credit unions and how they are essential to the credit union industry.  The current model for the birth of a credit union does not make it an easy task for De Novos.  Variable Ventures hopes to disrupt this process with innovative ideas inspired by the CUSO Challenge.
Register for November 19th Webinar
Join us again on Thursday, December 10th at 2:00 PM ET for the next initiative of the CUSO Challenge – Deposit Insurance.  Not much has changed with deposit insurance since 1933.  Let's shake things up and find more contemporary solutions to this archaic product.
Register for the December 10th Webinar
Click here to learn more about the CUSO Challenge and Variable Ventures!