Get in front of your members
With the Cooperative Campaign, you have the option to enroll ahead of time for the entire 2021 year or you can sign up monthly and pick and choose which months you would like to participate in.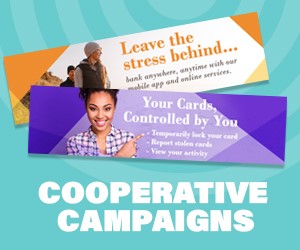 $250/campaign Or $2,500/year*
That's a $500 savings when you sign up for all 12 months!
*Must sign up for all 12 months before December, 18 2020 to receive $500 savings.
What are the Contests?
CU*Answers Marketing Contests are run quarterly for two consecutive months and have full electronic collateral package available.
Each quarter CU*Answers provides one prize for up to $500, giving your credit union a chance to have a winning member. You also have the option to purchase an exclusive prize on your own to ensure a member from your credit union will win regardless.
Enrollment for contests is completely FREE!
Questions? email marketing@cuanswers.com