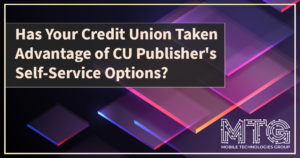 Mobile Manager allows you to update advertisements, button links, content, and much more!  Your credit union can also view analytics on your mobile app including the number of downloads, popular times, as well as click rates of your homepage advertisements.
CU Info allows you to make further updates to your mobile app!  This includes the ability to update your credit union branch information, assist questions and much more.
Interested in learning more about these solutions?  Or ready to place your order?  Click below to visit the IRSC store today!
To view a recording of our recent webinar for CU*Publisher Self-Service Series: CU Info and Mobile Manager, click here.