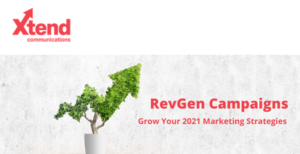 Xtend offers cooperative marketing solutions designed to generate revenue for your credit union.  Take advantage of Xtend's annual RevGen program for your marketing campaigns in 2021 and allow us to drive results for you!
Join us on 11/12/2020 at 2:00 PM ET to learn more about launching up to 6 flexible marketing campaigns with RevGen in 2021 at a very affordable rate.
For questions, please contact us by phone (866) 981-4983, or by email at info@xtendcu.com.