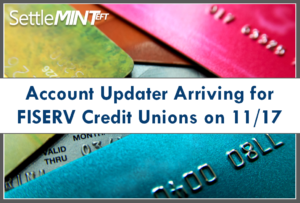 Beginning Tuesday, November 17th, credit unions who use FISERV as their card vendor will have the Account Updater turned on.  This means that when performing a new card add, you will be required to either opt the member in or opt the member out from the automatic billing processing that will be sent over to your card vendor.  If you attempt to bypass this process, you will receive an error message and will be unable to continue until you have selected an option.
Fiserv requires a previous card number and expiration date be transmitted when an existing card number is on file. If you would like us to not send the opt in or opt out status to your card vendor, please contact the SettleMINT EFT team here at CU*Answers.
As a reminder, we will be hosting a 30 minute training session this afternoon, November 12th at 2:00 PM ET.
Click here to join the training session at the time specified above.