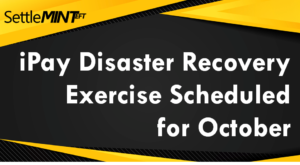 Attention iPay clients: on October 24th and 25th, Jack Henry & Associates, Inc. will be hosting a Disaster Recovery Exercise.  This event is scheduled to begin at 11:00 PM ET on Saturday, October 24th and will conclude at 5:00 AM ET on Sunday, October 25th.  During this time, all iPay Solutions products will be unavailable, including customer-facing bill pay sites, MASTER Site, iPay Portal and other access points into iPay Solutions including Mobile API, Bill Pay Services API and other ancillary web services.
During the downtime, users will see messages alerting them that these sites are down for maintenance.  There is no action required of your credit union during this event.
If you have any questions, please reach out to iPay Customer Support at 877-434-4729.