Image optimization ensures a great experience when retrieving images from the CU*Spy Online Vault.  In order to warrant this experience, Imaging Solutions will begin rolling out file size limitations on scanned documents for all CU*Spy Online Vault clients on October 26.
Having good scanning practices such as scanning in black and white (when appropriate), DPI less than 300, and breaking up documents larger than 30 pages not only ensures your documents save to the vault correctly, but that they load quickly when viewing.
While scanning documents into ProDOC, you will be notified once you cross the 25MB threshold via the following message: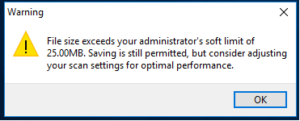 At this point, you have the option to save or continue adding pages. Once you reach the hard limit of 50MB, you will be presented with the following message: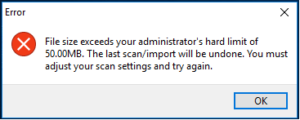 Now you can save what you have and start a new document, or restart scanning using a lower DPI and/or black & white for better space efficiency.
If you have any questions, please reach out to the Imaging Solutions team at: imaging@cuanswers.com.