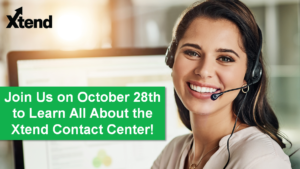 Join Xtend for the second portion of our October Virtual Roundtable series!  Learn all about the Xtend Contact Center, the insights we can provide to your credit union staff and benefits for your members.  Take a look at our schedule below:
Wednesday 10/28, 12:00 PM – 4:00 PM ET
Xtend Contact Center
12:00 PM – Agent Onboarding, Training & Employee Culture: Creating and evolving a team.
12:45 PM – Reporting, Metrics & Call Monitoring: Effectiveness and efficiency.
1:30 PM – Interaction Analytics & Wrap-Up Codes: Do you know why your members call?
2:15 PM – Open Discussion: Evolution amidst a pandemic.  What has worked, what hasn't, and what we each predict for the future.
Click the button below to RSVP – we look forward to seeing you!