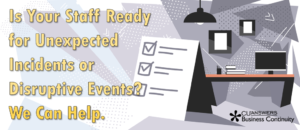 Two key components of your Information Security Program is a test-validated Incident Response Plan and a trained response team. Your credit union's Information Security program should be engrained in the corporate culture and an accepted part of job responsibilities throughout the organization.  Achieving this goal requires an ongoing awareness and training program that educates and prepares staff for their roles in responding to unexpected incidents and disruptive events.
The same experienced team who oversees the Business Continuity and Incident Response programs at CU*Answers are here to assist you in the development and implementation of an awareness training program at your credit union! A certified professional will work with you and your team from start to finish to:
Assess the current Awareness and Training program to identify any gaps in the level of preparedness
Identify the team and determine the goals and objectives of the program
As a group, develop the roadmap and schedule of activities for improving preparedness
Design and provide a kick-off presentation to educate staff on response and recovery procedures and introduce the plan and program
Provide recommendations and content for program educational materials
Document the plan and program in a report that can be presented to your Board of Directors and to auditors and examiners.
Interested in launching an Incident Response Awareness Training program at your credit union?  Click below to visit our store page and get started!