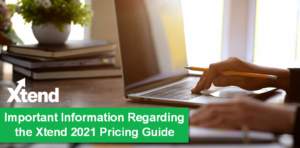 Each year, Xtend reviews pricing per product and service.  We work to ensure our prices are always cost disruptive for our CU*BASE clients, at times increasing or decreasing fees associated with all product offerings.  We do this once each year and notify our clients 90 days ahead of the new year (or new pricing) so you can adjust your budgets as needed.
This year there are very few changes to products and services.  However, we do have several new products we encourage you to take a look at including:
Bookkeeping Tune-Ups
Social Media Platform: Self or Managed Services
Digital Advertising
Call Center Wrap Up Code Consultation & Analysis
Strategic Marketing Plan
Marketing Calendar
New Member, New Mortgage and Auto Loan Journeys
You can view our pricing guide on the Xtend website at any time by clicking here.