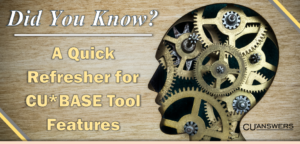 Record Beneficial Owners and Other Miscellaneous Secondary Names on Member Accounts
This feature can be used for example to track "beneficial owners" on organizational accounts, but the features are also useful for tracking other ownership types, such as power of attorney (POA) and payable on death (POD) relationships.
Now your credit union can designate owners that may not necessarily have all of the same rights and privileges as a true joint owner, complete with their own label and set of rules with a new "Miscellaneous Owner" or "M" type.  This is in addition to the other secondary types: Joint Owner (J) and Beneficiary (B).  Define the generic label for the misc. owner for a membership type using Tool #523 Membership Designation Configuration.
Then when linking a secondary name to an account, add a comment to explain that person's relationship to the primary account owner.  You will see this comment on the "Secondary Names Inquiry" accessed from Member Inquiry, Phone Operator, Teller Posting and Member Transfers.  Additionally, on numerous screens, the label will read "Secondary Names" instead of "Joint Owner/Beneficiary."