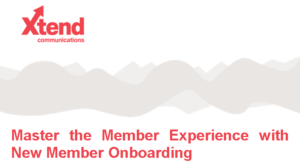 Make every relationship count with Xtend's New Member Onboarding program (NMO) – the most efficient and effective way to improve engagement, retention and share of wallet.
NMO is a series of personalized emails to new members, using member data to target their specific needs.  We focus on targeted marketing during the first 90 days of membership.  The program manages the progression of touch points a member receives through event-driven triggers that deliver personalized content to each member.  Through the use of dynamic content and live data, members will receive a truly unique onboarding experience.
Interested in learning more?  Join us for our upcoming webinar on Tuesday, September 15 at 2:00 PM ET.  Click below to register.
Ready to move forward?  Visit our store to get more details or to request a contract.