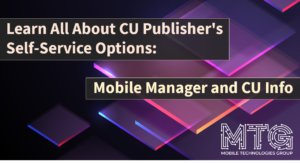 Did you know: starting Monday, October 5th, your credit union will have the ability to update your mobile app homepage advertisements, button labels and content within your credit union mobile app, as well as mobile app analytics!
Join Kristian Daniel, VP of Mobile Technologies Group Sales & Service to learn more about how you can access Mobile Manager and CU Info to make your own credit union mobile app updates.  During this session, you will learn all about how your credit union can obtain access to CU Publisher's Mobile Manager and CU Info, how you can make the updates once your credit union has access, and more about new portions of CU Publisher coming soon!
Wednesday, October 7
2:00 PM – 3:30 PM ET
Visit the IRSC store to take a look at all of our current CU Publisher self-service offerings.