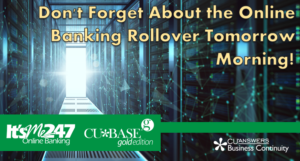 Don't forget: this month, we will be performing multiple rollovers including CU*BASE/GOLD and Online Banking.  In the past, these rollovers have been performed independently.  However, this month we will be performing the rollovers together.  While we are live with CU*BASE/GOLD production from our High Availability (HA) data center in Yankton, SD, we will also be performing a live rollover of our ItsMe247/ItsMyBiz247 servers to our secondary data center to further test the resilience of our network.
Below is the schedule for the September rollover event:
Wednesday, September 9th from 6:00 AM to 9:00 AM ET – A brief (practice) rollover for ItsMe247 servers to confirm connectivity and identify any issues prior to the full 24-hour rollover.
Sunday, September 13th at 3:00 AM ET – Normal CU*BASE/GOLD rollover to systems at the HA data center in Yankton, SD.
Tuesday, September 15th from 6:00 AM to 11:00 PM ET – Full 24-hour rollover for ItsMe247/ItsMyBiz247 servers.
Sunday, September 20th at 3:00 AM ET – Normal CU*BASE/GOLD rollback to systems at the primary data center in Kentwood, MI.
As a reminder, we strongly encourage that someone at each branch tests connectivity to the HA data center from a GOLD workstation prior to the rollover event.  Use the links below to complete one or both of the connectivity tests.
Please contact the CU*Answers Network Services Help Desk at helpdesk@cuanswers.com if the tests above are unsuccessful.