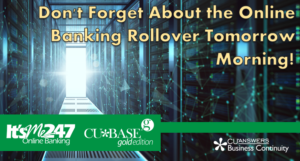 Don't forget: this month, we will be performing multiple rollovers including CU*BASE/GOLD and Online Banking.  In the past, these rollovers have been performed independently.  However, this month we will be performing the rollovers together.  While we are live with CU*BASE/GOLD production from our High Availability (HA) data center in Yankton, SD, we will also be performing a live rollover of our ItsMe247/ItsMyBiz247 servers to our secondary data center to further test the resilience of our network.
Below is the schedule for the September rollover event:
Wednesday, September 9th from 6:00 AM to 9:00 AM ET – A brief (practice) rollover for ItsMe247 servers to confirm connectivity and identify any issues prior to the full 24-hour rollover. (Completed Successfully)
Sunday, September 13th at 3:00 AM ET – Normal CU*BASE/GOLD rollover to systems at the HA data center in Yankton, SD. (Completed Successfully)
Tuesday, September 15th from 6:00 AM to 11:00 PM ET – Full 24-hour rollover for ItsMe247/ItsMyBiz247 servers.
Sunday, September 20th at 3:00 AM ET – Normal CU*BASE/GOLD rollback to systems at the primary data center in Kentwood, MI.
Please note: We are aware that some credit union remote employees who connect to their branch via VPN may have experienced difficulty connecting with the HA host following Sunday morning's rollover.  If you experience this issue and require assistance, please contact Network Service's Help Desk.  If you manage your own network, please refer to the network routing requirements published here.