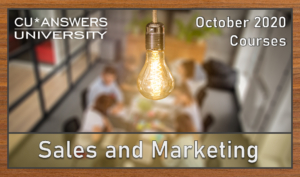 Each month, CU*Answers University hosts FREE web conferences and in-person events that highlight the many products and services our CUSO offers.  During the month of October, we will be hosting a series of Sales and Marketing-focused webinars.  Take a look at these upcoming courses!
Tuesday, October 13
9:30 AM – 11:00 AM ET
Report Builder 1: Working with Computer-Stored Data for Reports and Inquiries
Wednesday, October 14
2:00 PM – 3:30 PM ET
Report Builder 2: Building Custom Reports
4:00 PM – 5:00 PM ET
Making a Splash with Member Statements: Statement Onserts and Printed-Statement Styles
Thursday, October 15
1:30 PM – 3:00 PM ET
Report Builder 3: Database Files and String Reports
Friday, October 16
3:30 PM – 5:00 PM ET
Cross Sales & Sales Trackers: Offering Relevant Opportunities to Your Members
Don't forget: CU*Answers web conferences are always free to attend!