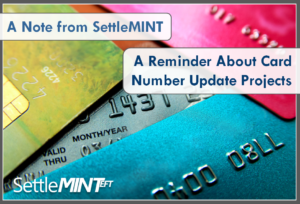 In June of this year, we sent out a notification that we were working on a mandate for Visa Account Updater/Account Billing Updater.
Visa Account Updater (VAU) is a service that facilitates and encourages customer satisfaction, retention and loyalty, by exchanging updated account information between participating merchants and Visa card issuers.  Serving as an automated, dedicated, and secure clearinghouse, VAU delivers updated cardholder account information in a timely, efficient, and cost-effective manner, benefiting all parties involved in the electronic payment process.
Mastercard Automatic Billing Updater (ABU) helps card-not-present (CNP) merchants maintain the continuity of card-on-file and recurring payments, increasing customer satisfaction and reducing customer attrition due to payment disruptions.
FIS will be implemented on Tuesday September 22nd, 2020.  As stated in our previous announcement, each vendor is different, so we are hosting a 30 minute training session.  This session will be held on Thursday, September 17th at 10:00 AM EST.
Click here to join the training session at the time specified above.
If you have any questions, please reach out to the SettleMINT EFT team.