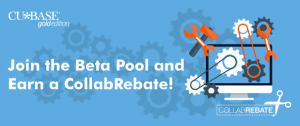 ATTENTION ONLINE AND SELF-PROCESSING CREDIT UNIONS
Earn a $3,000 CollabRebate for Testing New CU*BASE Tools and Features Coming with the 20.11 Release!
Learn more about enhancements coming in the November release, eligibility requirements for joining the beta pool, and what you will need to do to receive the CollabRebate reward on your CU*Answers invoice.
To join the Beta Pool, you must submit your Beta Pool Enrollment form before September 1. The beta test for the 20.11 Release begins September 27!
Note: By applying to join the Beta Pool, you agree to attend the Beta Release Training, scheduled via webinar (log-in details will be provided if you are selected to participate in the Beta Pool), and provide feedback following the beta period.