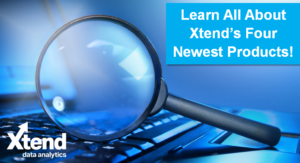 Xtend Data Analytics is launching four products this month! These powerful products will allow you to study and draw new insights from your membership like never before.
Wrap Up Code Consultation is an in-depth demonstration of wrap up code configurations, usage, and related software in CU*BASE
Know Why Your Members Call leverages Wrap Up Code data to reveal who calls your credit union and why
Custom Marketing Analysis is a customized analysis focused on previous marketing campaign performance
Email Performance Analysis is a deep dive into the effectiveness of emails sent to members
Learn More About Data Analytics
On Wednesday, August 26th, from 2:00 PM – 3:00 PM ET, we'll be hosting a webinar where we will discuss these products in detail.  Click below to register!