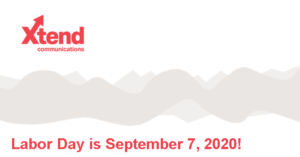 Labor Day is September 7, 2020!
For as low as $30.00*, Xtend can be your solution to raise member awareness about your upcoming holiday closing.
To request a message be sent to your members, use the link below to contact us.  We will send you premade templates to choose from that we can lightly customize to your brand.  We'll even take care of the member email list, sending, and reporting back to you.
Click the button below to send us an email and we will be in touch shortly with next steps.
Click the button below to get started!
*Fees may vary per request & will be quoted at that time. if you are a current HTML client, this email will be sent as HTML and an additional $0.02 per email sent will apply. If you are not a current HTML client this message will be sent as plain text via CU*BASE.