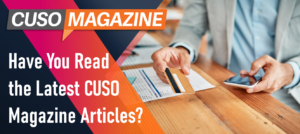 Debit and Credit Card Managers: have you visited CUSO Magazine lately?  Read up on industry strategies and recent developments by checking out these articles:
The Advantages of Cash Back Debit Cards by Ed Jesionowski, Sales Consultant
The Misconceptions of Online Credit Cards by Heather French, VP of Managed Services, SettleMINT EFT
The Good and Bad of Temp to Perm Cards by Megan Ernsberger, Quality Control Analyst
Visit the CUSO Magazine website to read these and other articles, presented by the unique voices here at CU*Answers!  Subscribe today and stay up-to-date with top stories and editorial highlights.