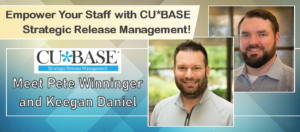 Have you made CU*BASE Enhancements a part of your strategic plan?  With Strategic Release Management, you can empower your staff and equip your credit union executives with strategic approaches and meaningful ways to utilize new options associated with each major CU*BASE platform enhancement.  CU*BASE Strategic Release Management provides services relative to our most current software release – it's not too late to sign up!
CU*BASE Strategic Release Management will focus on:
Integration of strategy, objectives, goals and technology to make enhancements tangible.
A well-defined approach to help you maintain control over your tools, while creating value for users and members.
Creating dedicated connections to the people inside CU*Answers, who will help translate tools into specific strategies.
Meet Pete Winninger, VP of Professional Services with Lender*VP, and Keegan Daniel, VP of Professional Services with Asterisk Intelligence and Earnings Edge!  Pete and Keegan can ensure your credit union executives and managers are empowered to use the latest CU*BASE tools and create value for your members.  Visit our store to learn more!
Click below for introductory videos featuring Pete Winninger and Keegan Daniel.  Pete and the Lender*VP team can help your credit union utilize CU*BASE to get the most out of direct and indirect lending, forms, and collections services.  Keegan and his teams provide data solutions including warehouse concepts and consulting, and can assist your credit union with your CU*BASE configuration to ensure you are getting the most from your investment.