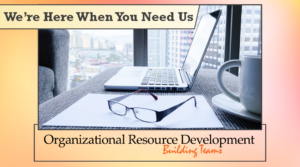 Even as headlines change and new information is delivered frequently, CU*Answers is here to support our clients.  We are committed to keeping our daily operations running smooth as usual.
CU*Answers Organizational Resource Development helps to build teams and provide organizational support and direction through employee resources, employee education and client interaction quality assurance.  The ORD team assists with the execution of the CEO's vision for CU*Answers (per our business plan) by participating in organizational strategic planning, department team planning, employee development, team building, leadership development, compensation strategies and implementation as well as the development and tracking of client interaction standards and expectations.
Click here to learn more about the ORD team.