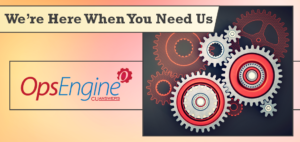 Even as headlines change and new information is delivered frequently, CU*Answers is here to support our clients.  We are committed to keeping our daily operations running smooth as usual.
OpsEngine is the CU*Answers brand for the composite of expert skills, cutting edge tools and professional services provided by the production division of CU*Answers.  OpsEngine performs the following, day-in and day-out, 365 days a year:
Over a quarter of a million manual transactions handled with an error rate that's close to zero
Nightly processing for over 150 credit unions, six days a week, in under an hour and half
Over 110,000,000 in ACH transactions processed daily
Archive services
System administration
In-house processor development and support
Monthly statement processing
Tax reporting
Automation management
Production programming and support
Click here to learn more about OpsEngine.