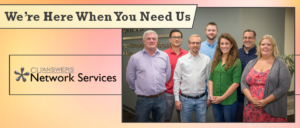 Even as headlines change and new information is delivered frequently, CU*Answers is here to support our clients.  We are committed to keeping our daily operations running smooth as usual.
CU*Answers Network Services offers solutions to the education, retail, legal, medical, real estate, hospitality, and financial services industries as well as court systems and regional municipalities. Our financial services portfolio includes servicing over 150 credit unions across the country.  More than just a service provider, we're an extension of your staff with the expertise to cut through the confusion and deliver the solutions you need at a price you can afford.
Click here to learn more about CU*Answers Network Services.