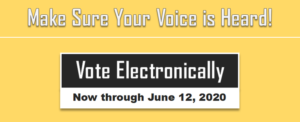 ATTENTION CU*ANSWERS STOCKHOLDERS
Make sure your voice is heard!
Vote Electronically for board elections May 4 – June 12, 2020!
Don't forget, CU*Answers will be hosting our annual meeting virtually via Zoom on Wednesday, June 17, 2020 at 4:30 PM Eastern Time.  To register for the annual meeting, click here – once registered, you will receive a confirmation email containing information on how to join the meeting.
Ready to vote?
Visit https://cuanswers.simplyvoting.com/ and follow the instructions in your email.
Tomorrow, June 12 is your last chance to register for the annual meeting as well as the deadline to cast your vote prior to the stockholders meeting.
(If necessary, you can change your vote during the Annual Stockholders Meeting on Wednesday, June 17).