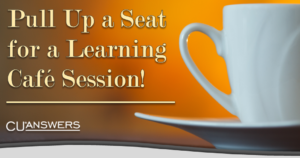 Join Pete Winninger, VP of Professional Services with Lender*VP for a FREE Learning Café!  This month, Pete will discuss credit reporting and COVID 19 impacted borrowers.  Find out more from the Lender*VP team about what is required of you when it comes to delinquencies, payment arrangements and forbearances.
Tuesday, June 23
3:30 PM – 4:30 PM ET
Don't forget: CU*Answers web conferences are always free to attend!