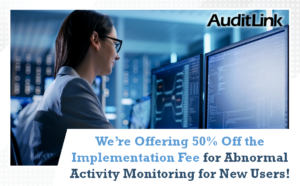 A powerful addition to the CU*BASE platform, the abnormal activity monitoring tool is designed specifically to help your team uncover high-risk member activity.  Looking to respond to growing trends in fraud, identity theft or elderly abuse?  This tool will help you sift through transaction activity from every origin on the system in seconds and will display accounts which warrant additional research and review.
Best of all, we are currently offering a 50% discount on the implementation fee for our Full-Service Abnormal Activity Monitoring for the next 90 days!  Our Full-Service option includes the configuration, review of account transaction activity and a monthly report provided to your credit union.  If your credit union has not yet looked into utilizing our Abnormal Activity Monitoring service, now is the perfect time to do so!
Have questions?  Reach out to the AuditLink team today – we're happy to assist!